You're probably familiar with the problem: you like to quickly post an update or photo to your personal or business Instagram, but then you spend a half copying that post over to all the other Social Media accounts you have. Facebook Pages, Twitter, Tumblr, Reddit, YouTube, LinkedIn, and so on. And last but not least, you really should not forget Google My Business (GMB).
GMB is your business profile on Google Maps and in Search. It's where Google, if you are up to date and regularly refresh your content, retrieves semantic data about your company. It's products, services, menus, opening hours, contact information and so on.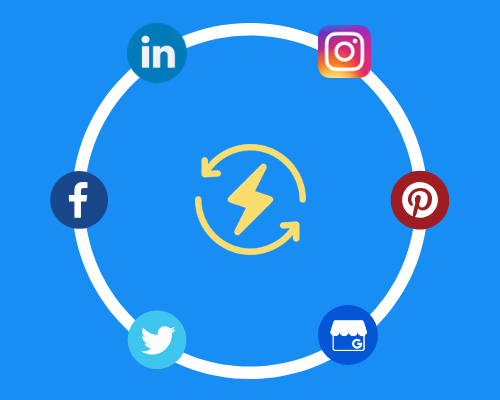 Businesses who are active on GMB have shown an increase in organic traffic from Google although how exactly remains a mystery. So it's a shame that updating all of your channels (website, social, mailing lists) is so much work. Surely there must a tool that can help automate this? After all, they're all services in the cloud so it should be easy to couple, link and integrate them all into a single dashboard/app where I can create my update with text, photos and/or video? Right?
Wrong. There are plenty of Social Media Scheduling tools out there, such as Hootsuite, Buffer, SocialPilot and so on. Sadly, these services cost money and to really get all their features you have to resort to an expensive albeit all powerful plan. But most of us don't want to pay $250/month/user for these features, no matter how useful and beneficial to our business.
Check out Social Media Scheduling Tools: The Complete List (2020 Update)

https://blog.oneupapp.io/social-media-scheduling-tools/
However, if you are willing to sacrifice a little of your time in return for cheaper tools, you can easily tie two or three of these scheduling tools together to automatically update all the Social Media platform of your choice, including Google My Business, for little or no monthly fee. But you have to do it yourself and can't work together in a team.
SocialPilot, $10/month, 10 profiles

supports Facebook, Twitter, LinkedIn, Pinterest, Instagram, Tumblr, Xing, VK

OneUp, $4/month, 3 profiles

supports Facebook, Twitter, Pinterest, LinkedIn, Instagram, and Google My Business

Hootsuite, free, 3 profiles

supports Facebook, Twitter, LinkedIn, Pinterest, Instagram, YouTube

IFTTT, free, links Social Media accounts

Free link between Instagram and WordPress

WordPress, free, 4 profiles

free link between WordPress blog and Facebook, Twitter, LinkedIn, Tumblr
Why do I list Tumblr, even though the platform is mostly dead? First of all Automattic has acquired Tumblr and will breath new life into it, I think. Second and most importantly, Tumblr has a fantastic mobile app that lets you create the most media rich posts/updates of all. Text or photo, yes, but audio, GIF or posting video natively that you didn't record with the app but with your phone's camera, that where Tumblr's App really shines. So it's my go-to app if I want to cross post media rich updates.
Power Up Your Social Media Channels
Now for an example, let's say you want to use the Instagram app for updating your followers. You want to use Instagram, Facebook (Page) and your WordPress blog. Then…
Link Instagram to your Facebook Page. Free.
Link Instagram to your WordPress blog through IFTTT. Free.
Buy OneUp to feed your Facebook updates to your GMB profile. Only $4 per month.
Total cost: $4/month plus your WordPress plan – which could be free.